SFISSA's October meeting will be on Thursday, November 21, 2019 at Nova University, Davie, FL. The meeting will take place from 6PM to 8PM, followed by their usual networking hour.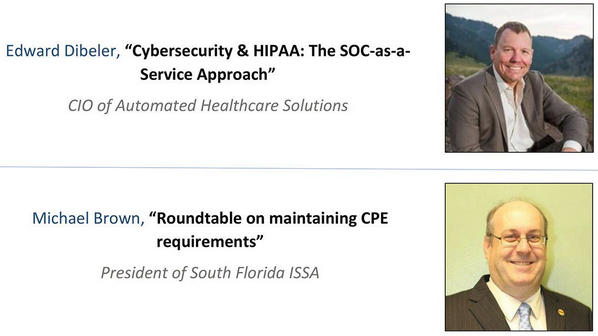 Register on our Meetup Page
Beer & Wings after @ Ye Olde Falcon Pub
Please join us for our November Meeting. Two technical talks followed by networking. We will also be holding elections for half our board: President, Secretary, directors of Communications, Program, and a Director @ Large. This month we will be at Nova Southeastern University in the Carl DeSantis Bldg, rm 1052. Networking to follow at Falcon Pub.
Speaker 1: Edward Dibeler, CIO of Automated Healthcare Solutions
With 25 years of IT experience, Ed founded the consulting firm Puma Telecommunications. Puma had developed the integrated hybrid voice software that merged the working process gap between communication and data systems. As the creative solution this sector had yet to uncover, Puma's baseline offerings were largely focused on the convergence of voice and data systems by its corporate client base.
Contracted by Automated HealthCare Solutions to enhance their voice and data workflows, Ed created, developed and built a four year alliance with AHCS. The relationship transitioned in 2012 when Ed was commissioned to serve as CIO for AHCS and all its other divisions. In this capacity he was the chief architect behind the ezVerify product offering as well as supporting end enhancing the robust enterprise platform serving thousands of physicians nationwide. Ed assumed permanent CIO responsibilities for all AHCS entities and remains in that capacity today. Ed is an industry leader for software and infrastructure development and continues to focus on technologies' role in advancing healthcare challenges.
Topic: "Cybersecurity & HIPAA: The SOC-as-a-Service Approach"
Edward Dibeler, CIO of Automated Healthcare Solutions, was challenged with limited security resources, lack of security visibility and comprehensive compliance with HIPAA HITECH healthcare mandates. He'll share how he solved these challenges and the benefits of the cybersecurity solution he deployed.
Speaker 2: Michael Brown, President of South Florida ISSA
Topic: "Roundtable on maintaining CPE requirements"